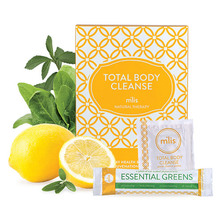 Are you looking for a healthier body? An easy, highly nutritious health plan?
Reverse negative symptoms? Maybe you want to enhance your beauty?
Then the wellness program is for you. In week one you will CLEANSE: Prepare the body.
Why do we start there:
Sluggish/low energy/fatigue                               

                                   

Dependent on coffee or other stimulants           

Break unhealthy diet habits                               

Difficulty losing weight/gaining weight               

Allergies/frequent flare-ups                                

Low immune function                                          

 Depression and/or anxiety                                

 Food sensitivities and/or intolerances                               

Skin breakouts                                                                                                      

                                                                          

  

Low libido/performance

   

Diarrhea and/or constipation 

Bloating/gas/cramps 

Chronic headaches/migraine  

Brain fog/poor memory  

Inability to concentrate

Retaining water

Protection from sickness

Stubborn cellulite

Sleeping problems

Muscle and/ or joint pain                                                                               
WEEK 2
DAILY ESSENTIALS: Take nutrients to support your healthier, more beautiful body.
Daily Multivitamin – Perfect combination of essential vitamins & minerals that have been chelated for optimal bioavailability.
Calcium – Liquid gel capsule providing an optimal source of 1,000 mg calcium & 1,000IU vitamin D.
Vital – A potent blend of antioxidants including: astaxanthin, vitamin C, gingko balboa, & green tea.
Enzyme – A powerful combination of 5 digestive enzymes for improved digestion and increased energy.
Vitamin D – 1,000 IU of a liquid soluble form of naturally-occurring vitamin D3 to support a healthy immune system.
Fish Oil – A concentrate of wild-caught fish providing a rich source of omega-3 fatty acids, EPA [647mg], and DHA [253mg]. Ideal for heart and cognitive health.
INCLUDE: ONE SERVING OF MRP
 

20g of clean whey

Free of lactose, casein, sugar, soy, gluten, & artificial sweeteners

Provides a daily dose of essential vitamins & minerals

8 billion units of probiotics per serving

5 digestive enzymes

Omega-3 fatty acids

A convenient option for complete nutrition

4 delicious flavors
WEEK 3
ADD IN PERSONALIZED SOLUTION
Complete Our Health Screening Questionnaire to help determine your correct solution.
Please call Casey @ 860 628-8857 with any questions
To a healthier you.
Hugs,
Casey