My Salon Story
I enjoyed being a manager of a salon that was part of a well -known chain I believe , twenty salons, It was a typical
Saturday the staff was busy with meeting our clients' needs and enjoying conversation when a sheriff walked in and changed the direction of my life [Full story in Crawling Out, due to be published 2013] I found myself in emergency mode, had a staff meeting, and six months later, I opened Casey's Image Consultants.
It was lots of hard work, unexpected twists and turns, ups and downs, but here I am, twenty- two years later, thriving and the happiest I have ever been. I have the most wonderful,diverse, loyal, sweet clients, some drive from out of state, some are next door neighbors and many have been coming for more than thirty years. To me, it feels just like one big extended family sharing important events in our everyday lives.
Each and every day is enjoyable in one way or another, especially when clients catch up with one another and the salon atmosphere is like a family reunion. Jokes, recipe sharing, laughter, and tears,and of course, some great haircuts accomplished in addition to a lot of fun.
One day a new client the first to arrivefor the day came in she barely sat down when she said ,"I love how it feels in here I wish my home felt like this." What a sweet compliment coming from a newcomer we were off to a great start. Off to creating yet another relationship with years to build happy times and memories as we share great conversations and stylish hairdos.
It is my hope through your visits at the salon (and/or this website), you to will feel like part of the family and enjoy sharing a piece of you.
Please feel free to give me a call and come enjoy our family of clients.
51 North Main Street, Southington, Connecticut  860-628-8857
I have owned and operated my full-service hair salon, now located in downtown Southington Connecticut, for more than 20 years. I believe that true beauty comes from within, which is why I am dedicated to helping people improve not only their appearance but also their overall health. As a Certified Wellness Consultant, I also offer Lifestyle Change Programs for detoxifying the body. Stop by or call me to find out how to slow down the aging process while allowing your healthy, beautiful self to show through! 
Casey's Salon Services
Hair Cuts/ Styling (for women and men) $17 – $38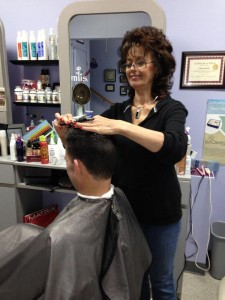 Color / Highlights / Lowlights / Retouch $45 – $65
Perms $65 and up 
Waxing (eyebrow, lip and chin) $8 – $12
 Senior discounts available
Like us on FaceBook to receive 25% off Foot Detox. Be sure to mention this offer when calling for an appointment. 
What Casey's Customers Have to Say ….  
 "Casey is the best I have been coming to Casey for over 20 years, and she is the master of hair, skin, and a healthy lifestyle. She has taught me so much about nutrition that I have never felt this good ever. Her personality alone puts you in great spirits, and when she is done working magic on your hair ,you look like a million bucks."  ~Tina Delaney, Cheshire, CT
**********
"I've been going to Casey for 25 years, and nobody can do my hair like her. When I travel my hair doesn't come out right. I can't wait to get back home so she can do it the way I like"  ~Terry Scollo, Southington, CT
**********
"Casey, in all you do…You walk the walk while talking the talk…Proud to know you."  ~Laura Mignosa, founder of the Connecticut Institute for Herbal Studies, Wethersfield, CT
********** 
 "Miss Casey has done my hair since I was young. My hair is now long, silky, and healthy. I don't know what she is putting in my hair but it is sure working! Thank you, Miss Casey!"  ~Froggy, Cheshire, CT
**********
"For those of you who always have so many nice comments about my hair, it's because of the lovely Casey Morley of Casey's Image Consultants. Check her out – Call for an appointment – You'll be glad you did. AND when you're ready to detox your way to a healthier lifestyle, Casey is the answer for that, too! She's an enthusiastic and inspiring mentor. She has talked the talk and walked the walk and is living proof that you will be successful, too."  ~Toni C. Jardine, Meriden, CT
**********
"Casey has been my hair stylist for many years. What I like the best is her honesty. She tells me why this won't work and why this will. I get many compliments on my hair and people don't believe how old I am. I feel I owe a lot of it to her."  ~Dr. Carol Grant of Grant Chiropractic Health Center,LLC, Plantsville,CT
********** 
"I love coming here; it's such a positive place."  ~Kate Kupstis, Southington, CT
**********
"I have been a client of Casey's for over 20 years; I have even traveled from Massachusetts for a number of those years. I get far more than a great haircut from her at each and every appointment."   ~Erin, Boston,Ma
Casey's Products
Nioxin, Matrix, Chi, Biolage, M'lis Nutritional Supplements 
Casey's Credentials
Cosmetologist, Detox Mentor, M'lis Wellness Consultant, Reiki
Hours
Mon: 12-8 Tues: By Appointment Wed: Closed Thurs: 8-4  Fri: 8-4  Sat: 8-3    
Call 860-628-8857 today to schedule an appointment!
 ;