Balancing Mind Body and Spirit
Let's get to the heart of it …
Did you know that an estimated 85.6 million Americans have some form of cardiovascular disease?  This is a staggering number. Heart disease is the #1 leading cause of death, second only to cancer.  
Heart disease is not an "old persons" disease, and it doesn't just happen to fried food eating junkies.I know someone who had a heart attack at the age of 26! He was fit, he played sports and he was too young to die. Believe it or not, this is not a rare story these days.
It is time to take heart (pardon the pun) and pay attention to your heart health. It couldn't be any easier with the M'lis Heart Healthy Essentials. These fantastic stick packs have a refreshing citrus flavor. Simply mix one packet a day in 8 oz. of water shake/mix and enjoy.
In addition to important vitamins like C, D, B12 and 6 as well as Folic acid and calcium M'lis Heart Healthy Essentials contains a cardio blend
powerhouse of
L-Citrulline, L-Arginine and CoQ10. These are vital components to boosting nitric oxide in the body and providing cardiovascular support. 
M'lis Heart Healthy Essentials promote healthy blood vessel flexibility and dilation, making it a great supportive supplement for those who have risk factors for heart disease, such as high blood pressure, excess weight, or high insulin levels (diabetes).
Medical studies have demonstrated that supplementing with CoQ10 can have beneficial results.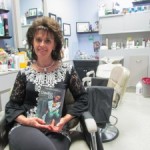 Post by: Casey Morley – "I have emerged from a life filled with abuse and chronicle my journey in  my book, Crawling Out, available at CrawlingOut.com. I hope by sharing my story I can help other victims of domestic violence realize that they too, can start their own journey of crawling out – and that they don't have to walk alone. I am also the owner of Casey's Image Consultants, and a Certified M'lis Wellness Consultant offering Lifestyle Change Programs for detoxifying the body. I am dedicated to helping people improve their appearance and overall health from the inside out." Visit www.crawlingout.com to get your copy of Crawling Out today!