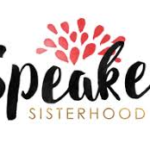 I am so excited to share with you a new adventure I signed up for. It is called Speaker Sisterhood of Southington.
Speaker Sisterhood is a network of speaking clubs formed by Angela Lussier teachings for women  https://speakersisterhood.com/2017/05/13/the-secret-life-of-speaking-up/who want to discover, awaken, and create their voice through the art of public speaking. Have more confidence, meet amazing women, and become a better speaker, and just have fun expressing who they are at the moment.
This public speaking club program is built on the philosophy that each public speaking opportunity is a chance to discover, awaken, and ultimately create the voice each speaker will present to the world.You will increase your confidence and comfort while speaking in front of groups from 10 to hundreds.Improve listening skills, develop ease and grace when put on the spot. develop better interview habits, learn how to present in a calm matter without those sweaty palms and more.
Check out what our Speaker Sisterhood leader Alicia  has to say. 
https://speakersisterhood.com/speaking-clubs/southington-ct-with-alicia-davis/ 
Consider joining us, plan on having have some fun and give and receive authentic, caring, feedback to help you grow to a more amazing woman. I promise you it will be a  rewarding adventure.
Hugs Casey