The Mary Our Queen Ladies Guild invited me to be their guest speaker!

Topic: "God is Good"
"It is through the Grace of God that I am healthy, strong and empowered. I will be sharing some of my story and the mission he has me on."

All are welcome!

Mary Our Queen
Wednesday April 22, 2015
248 Savage Street Plantsville, Connecticut
Meeting starts at 7 pm in the church hall.
Does your group, church, or school need a speaker?
Give me a call! 860-628-8857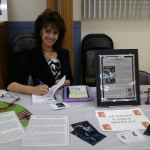 Post by: Casey Morley – "I have emerged from a life filled with abuse and chronicle my journey in  my book, Crawling Out, available at CrawlingOut.com. I hope by sharing my story I can help other victims of domestic violence realize that they too, can start their own journey of crawling out – and that they don't have to walk alone. I am also the owner of Casey's Image Consultants, and a Certified M'lis Wellness Consultant offering Lifestyle Change Programs for detoxifying the body. I am dedicated to helping people improve their appearance and overall health from the inside out." 
Visit www.crawlingout.com to get your copy of Crawling Out today!