I have had many conversations with my clients about their health since I started offering the Ion Cleanse foot bath service at my salon. Most believe they're healthy and take relatively good care of themselves. But, after seeing the colors of the water after one footbath, they begin to think twice about how healthy they truly are. This is the typical reaction of anyone who takes an Ion Cleanse footbath.
We live in the most polluted environment in Earth's known history. We continually inhale and assimilate toxins from petrochemical products, including plastics, and from pesticides. Our bodies cannot metabolize most of those poisons. 
Toxins damage cells, disrupt our endocrine systems, and impair the body's ability to absorb nutrients and heal itself. The majority of these toxins remain in the body for many years, stored in the fat cells. In addition, poor diets and high stress contribute to the accumulation and storage of excessive quantities of waste products in the body.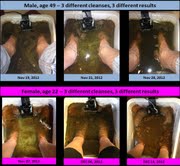 How can your body eliminate these toxins? On its own, it can't. But with help, it can. You see, the positive and negative ions of the Ion Cleanse travel into the body through the feet as they soak in the bath and neutralize the oppositely charged ions of the toxins. Once those toxins are neutralized, they are pulled out of the body into what you see in the water. The results: fewer toxins in the body and an energized feeling, similar to what many people feel after a long walk on the beach.
 The following are testimonials from my clients:  
"First visit I felt immediately renewed and rejuvenated, no pain in my joints, muscles, torso and it lasted through the evening. On my second visit, again, I felt immediate relief of pain in my body, especially in my knees and legs. Rejuvenated! With my third visit again I was energized, and rejuvenated. The pain in my body dissipates, but is most noticeable from my feet through my hips, which are my most
troublesome areas. These areas cause me pain and discomfort all day every day. The footbath feels good! And the feeling seems to last.'" ~Jodie Terry, Southington, Connecticut
"The first time I used the machine it was out of curiosity. Much to my surprise, the swelling and pain that I had been experiencing in my right ankle seemed to subside. I'd been having problems for three months with it swelling considerably by day's end. I have noticed the swelling was down and stayed down. Also, on the same foot I have an issue with my big toe and nail. Both of those issues are also on the mend. Thank you, Casey!"  ~Carla Perillo, Southington, Connecticut
Like I said, you have to see it to believe it! I invite you to come and experience it and tell me what you think. Call me today at 860-628-8857 to schedule an appointment.