T

here can be a cultural change on "speaking up and speaking out, accountability, challenging someone's entitlements
."
  Students at Carnegie Mellon University are using this "bystander intervention" approach in a new interactive online game in an effort to prevent sexual assault.  The game can be found at http://www.andrew.cmu.edu/course/53-610.

California is the first state to offer NO MORE license plate to fund local programs in the fight against domestic violence and sexual assault. Sign up for the #NOMOREplate at www.nomoreplate.org.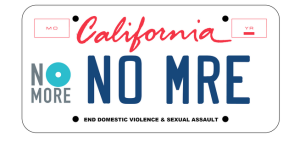 Post by: Casey Morley – "I have emerged from a life filled with abuse and chronicle my journey in  my book, Crawling Out, available at CrawlingOut.com. I hope by sharing my
story I can help other victims of domestic violence realize that they too, can start their own journey of crawling out – and that they don't have to walk alone. I am also the owner of Casey's Image Consultants, and a Certified M'lis Wellness Consultant offering Lifestyle Change Programs for detoxifying the body. I am dedicated to helping people improve their appearance and overall health from the inside out." 
Visit www.crawlingout.com to get your copy of Crawling Out today!