It was a beautiful blue-sky, sunny day. As I approached the entryway of Our Lady of Calvary retreat house,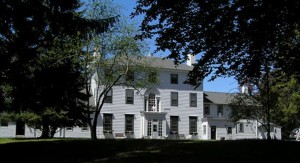 a clean, fresh breeze brushed my checks. I slowed down for a second or two to just enjoy the beauty and serenity that surrounded me. As I stepped into the foyer, the aroma of something delicious baking in the oven hit me instantly. For a second, I pretended to be one of those lucky children who got to go home after school to a mother waiting to hear how their day went and a homemade treat to hold them over until dinner.
In moments, Sr. Pauline, whom I saw weekly for spiritual direction, was there to welcome me. We always met in her second-floor office, and on this day, I could see the beauty of the day as I sat in my comfortable chair. At this particular session, I was frustrated and my heart was heavy. Sr. Pauline picked that up very quickly, stating, "You don't seem yourself today."
My problem, I felt, was that I had wasted so much of my life trying to figure out and understand why things were the way they were in my life. Suddenly, though, I had an Aha! moment. I remember saying, "Oh, Sister! I had to go through all of that to get to here!" The sudden understanding excited me. With a gentle smile, Sr. gave me her famous, comforting, "exactly right" nod. I instantly released my "I haven't done well enough" thoughts. The heaviness lifted almost immediately, and my heart was peaceful once again.
What helps me remember now that I am never wasting any of my life as I learn and grow is a quote I read awhile back. Part of the story goes like this: In an interview on CNN, Ted Turner was asked how he kept going when he seemed to lose again and again. Without hesitation, Ted replied, "I wasn't losing. I was learning how to win." Today I know that is exactly what I have been up to all of my life. I was learning how to win.
I hope you can start now to turn any losing thoughts you might have into I-am-learning-how-to-win thoughts. Let me know how you do with this.
__________________

Post by Casey Morley – I have emerged from a life filled with abuse and chronicle my journey in my my book,Crawling Out, due to be published soon. I hope by sharing my story I can help other victims of domestic violence realize that they too, can start their own journey of crawling out – and that they don't have to walk alone. I am also the owner of Casey's Image Consultants, and a Certified M'lis Wellness Consultant offering Lifestyle Change Programs for detoxifying the body. I am dedicated to helping people improve their appearance and overall health from the inside out.