Many wonderful people came to visit my booth during the Apple Harvest Festival in Southington, CT this past October. I was thrilled that so many people eagerly took the opportunity to order copies of my soon-to-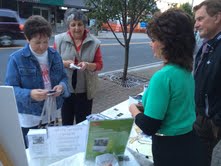 be-published book, Crawling Out.
Since October was Domestic Violence awareness month, I took part in the CUT IT OUT "Give the Power Back" campaign. The goal is to give victims of domestic violence the voice and courage to speak up and seek help. Throughout the months of October and November I held a fundraising and awareness drive at my salon at 51 N. Main St. in Southington, CT to help victims of domestic abuse.
During the festival I made a couple of videos, one with my friend Chuck Miceli author of Amanda's Room, showing the two of us "Authors at Play". In the other "Abuse No More" video, I asked for you read my blog post on Signs and Symptoms of Abuse. This is important to me because of the experiences I have had standing behind my stylist chair….
You see, when I share with my clients the very disturbing abuse statistics, [and that I was once a victim of domestic violence] so many are downright shocked. Unfortunately, I've learned the only way we can truly make a difference in the lives of victims, is to share the ugly truth …. even when it's painful to hear and difficult talk about. 
Many victims of domestic violence miss some of the first subtle forms of abuse, which can quickly escalate into physical violence. While bruises and other physical markings of abuse heal over time, the underlying mental and emotional damage can last a lifetime. No one deserves to be abused. Sadly millions of women, children and men all over the world are abused every day. The sad truth is only a fraction have the courage to seek help …. we all know someone who has endured abuse or who is  currently silently suffering from it.
It is my hope that EVERYONE will help me put a stop to this nationwide epidemic. Just knowing the signs and symptoms of abuse could save a life! Please check out my Resources page. Perhaps you will find a way to get involved by donating just a small amount of your time and/or money to one of the many wonderful organizations that help victims. By simply sharing my website with the people on your contact list, you could provide a discreet avenue for someone who is suffering to to find the help they need. You never know which one of my blog posts will shed a glimmer of light and provide the gentle nudge to a new awareness.

Post by: Casey Morley – "I have emerged from a life filled with abuse and chronicle my journey in my my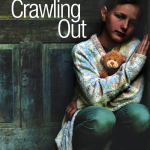 book,Crawling Out,due to be published soon. I hope by sharing my story I can help other victims of domestic violence realize that they too, can start their own journey of crawling out – and that they don't have to walk alone. I am also the owner of Casey's Image Consultants, and a Certified M'lis Wellness Consultant offering Lifestyle Change Programs for detoxifying the body. I am dedicated to helping people improve their appearance and overall health from the inside out."