I was invited to speak at the 13th Annual Social work conference on Surviving Domestic Violence

 

Wednesday April 15, 2015 8 am

– 

1pm

at Anna Maria College  Zecco Performimg Arts Center 50 Sunset Lane Paxton Massachusetts.
How to identify the characteristics and corresponding warning signs of a volatile interpersonal relationship

Descriptions of intervention strategies, coping skills, and ways to effectively escape a dangerous relationship

How to identify early warning signs and predisposition[s] to domestic violence, as well as clinical diagnoses that correspond with domestic violence.

How to bring awareness to survivors of domestic violence and interpersonal violence and how to get help.
3 Social Work CEUs are being applied through the NASW Central Massachusetts Chapter. Reg fee $25 or $20 when you donate a nonperishable food
item.
AMC students faculty and staff do not have to pay registration fee. For more information please contact jdireda@annamaria.edu
Does you group, church, or school need a speaker? 
Give me a call! 860-628-8857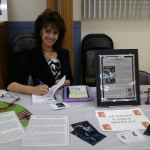 Post by: Casey Morley – "I have emerged from a life filled with abuse and chronicle my journey in  my book, Crawling Out, available at CrawlingOut.com. I hope by sharing my story I can help other victims of domestic violence realize that they too, can start their own journey of crawling out – and that they don't have to walk alone. I am also the owner of Casey's Image Consultants, and a Certified M'lis Wellness Consultant offering Lifestyle Change Programs for detoxifying the body. I am dedicated to helping people improve their appearance and overall health from the inside out." 
Visit www.crawlingout.com to get your copy of Crawling Out today!