Breaking the Chains of Child Abuse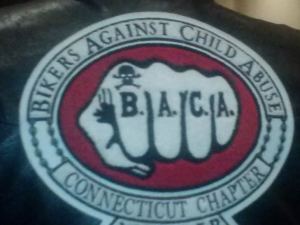 The Bikers Against Child Abuse are my heroes. It was an honor to have them at my Crawling Out book launch celebration last month. I'd like to share with you the great work these amazing individuals do for children… 

Bikers Against Child Abuse, Inc. (BACA) is a non-profit organization that provides aid, comfort, safety, and support for children that have been sexually, physically, and emotionally abused. They are dedicated to the principle that the most basic right of childhood is to feel SAFE and PROTECTED.
BACA is a strong organization of dedicated individuals who are willing make necessary sacrifices to protect and secure a child's most basic right to a happy childhood. BACA was founded by John Paul "Chief" Lilly, a Licensed Clinical Social Worker. Most of his 20+ years of practice were spent in the treatment of abused children. He was keenly aware that the system was able to offer only so much to help children to heal. Chief knew the gaps that needed to be filled included 1. providing for the safety of the children and 2. providing funding for their therapy.
Even with the court involvement to protect children from further abuse, perpetrators continue to access and wound children. It is just not realistic to expect law enforcement officials to protect these children from perpetrators on a continual basis. Further, many children that are abused do not qualify for therapy benefits because their cases might not meet the basic requirements of the rules of evidence. While it might be clinically evident a child has been abused, that child might not qualify for benefits because he/she was too frightened to provide enough evidence for the case to be pursued. Chief noted that safe children are more capable of telling the truth because threats made by an abuser are offset by the presence of dedicated Bikers who have become part of the child's world.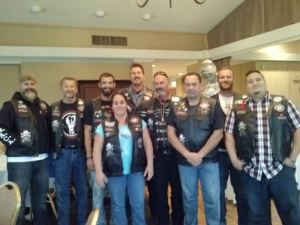 In addition to becoming a presence in the life of wounded children, BACA may also attend court proceedings and parole hearings. They offer help by escorting them to and from school or errands if necessary, and many other ways to insure that the children are free from fear and can return to their previous level of adaptive functioning.
One of the greatest and unique assets of BACA for the children is its' biker family attitude. Bikers are a tightly knit group. The brotherhood and family values are a way of life – One for all and all for one – is their reality. The children have an uncanny sense for honesty and trust. The children can feel when they are being lied to or deceived. When a large group of bikers ride to a child's home to support and honor that child, and the bikers tell that child that he/she does not need to be afraid anymore because the bikers are there and will be there under any circumstances, the children feel the security of a brotherhood. Children understand that child abusers are cowards that prey on the helpless. After children have been introduced into the BACA family they are not helpless or powerless anymore.
BACA was started to help just one wounded eight-year old child who was so frightened of his perpetrators that he would not leave his home.Chief, having had kind and loving experiences with bikers in his youth was moved to include this boy in his biker circle. Within weeks, this boy was seen all over town riding his bike and playing with other children. The idea to rally the biker community in defense and in support of children was actualized in 1995 when the first ride was held to visit wounded children and bring them into the biker family- that first ride had twenty seven bikes present. Shortly after forming the first chapter in Utah, other chapters were formed in Oklahoma, Missouri, and Texas, and the rest is part of the BACA history. What was started as an idea was actualized by the dedicated and heartfelt love of bikers all across the country.
First and foremost, BACA members are bikers who share a common love of the open road on two wheels and the brotherhood and sisterhood that can only be found in the biker community. Members come from all walks of life. BACA only discriminates against – child abusers. Everyone else meeting the basic requirements and has the time, the commitment, and the energy are welcome.To learn more visit their website at bacaworld.org

  Post by: Casey Morley – "I have emerged from a life filled with abuse and chronicle my journey in  my book, Crawling Out, available at CrawlingOut.com. I hope by sharing my story I can help other victims of domestic violence realize that they too, can start their own journey of crawling out – and that they don't have to walk alone. I am also the owner of Casey's Image Consultants, and a Certified M'lis Wellness Consultant offering Lifestyle Change Programs for detoxifying the body. I am dedicated to helping people improve their appearance and overall health from the inside out."