I hear from my clients more and more that their lives are busier than ever. The month of December can compound this busyness with all the extra shopping, gift wrapping, decorating, and menu planning, cooking, and baking. One Thursday morning in early December I had a conversation with a client.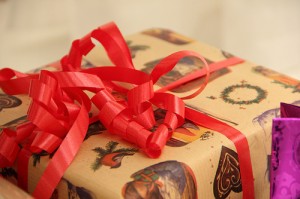 We started off with the usual "how have you been since your last visit" questions. Over the years we have developed a comfortableness that allows us to speak from a space deep within our hearts and souls. In a sense, we walk side by side with our perceptions and what we have learned along the way. More often than not, it is about raising our children. We have come to realize we are our children's first life coach, and how essential it is to teach the important things in life. Morals, values, don't stand in judgment – your perception today could change by morning. Gratitude, forgiveness, charity, the gift of giving and receiving, and to remember some days we are the teacher and some days we are the student.
At this particular appointment my client shared a quote she saved on her new iPhone. I read it, liked it, and asked her to email it to me. I wasn't sure why at the time, maybe to just share it with my son, Michael. I was sure he had heard it years ago, being the sports fan that he is. I found myself at the computer copying and pasting the quote to print it out. The quote ….. 
"I've missed more than 9000 shots in my career. I've lost almost 300 games. 26 times, I've been trusted to take the game winning shot and missed. I've failed over and over and over again in my life. And that is why I succeed."  Michael Jordan
What amazed me about this quote copy was what an unexpected gift it turned out to be. You see, my life is quit full with running two businesses, being a single mother, homemaker, and an author. With the added to-do list for the holidays, I noticed the feeling of being overwhelmed creeping in almost daily. I found myself reading this Michael Jordon quote often and each time it reminded me, it doesn't all have to be done perfectly! I don't have to stay on the perfection square (unless I choose to) to enjoy this Christmas season and have my holiday happenings turn out to be a success.
I am very thankful for this unexpected gift. I hope this will turn out to be an unexpected reminder for you as well.
Hugs,
Casey