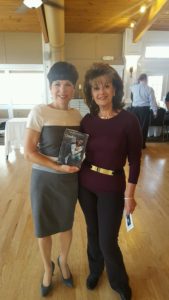 What a whirlwind of exciting fun this past thirty days. Starting with Selling and signing copies of my book at the 3rd Annual Women of Hope Conference, It was one terrific day.
Next, I was off to a business forum hosted by our Southington Chamber of Commerce and the Economic Development Office.  Our guest speaker Kathy McAfee, America's Marketing Motivator was full of life and great tools to share. She taught us was how to meet someone new and get to the point with sharing our contact info and how we can assist one another.
This meeting lead me to my first Soroptimist meeting at a restaurant in Wallingford. There I met some Meriden and Waterbury Chapter Soroptimists. I know you're thinking what is a Soroptimist? Well you're not alone. Everyone I mentioned this to had the same thought. What is a Soroptimist? Soroptimist is a global women's organization whose members work to improve the lives of women and girls through programs that lead to social and economic empowerment. Soroptimist programs focus on providing women and girls with access to education, which they've found is one of the most effective ways to end social problems disproportionately affecting women and girls. 
Because Kathy is a member of the Farmington Valley Soroptimist Chapter, I made a point to get to there for a meeting. I met a wonderful group of women working hard at making a difference. Here's a post Kathy put on Facebook. Check out LiveYourDream.Org to learn more about the many great things this organization does and find ways to get involved. 
Next I found myself at my first meeting of the National Speakers Association. Exciting well-established speakers shared many tricks of the trade. There I met members of the Cheshire Toastmaster Club. I have enjoyed being  right in the middle of the  whirlwind and having lots of  fun meeting these awesome upbeat people. Please let me know if you check out any of these fun" making a difference groups."
Hugs,
Casey