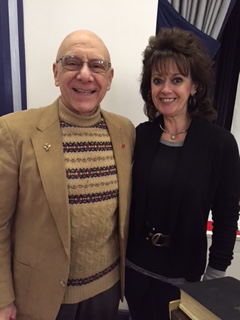 What a great afternoon I shared with Dr. Bernie Siegel, at the Town and Country Club in Hartford, Connecticut. This amazing event was sponsored by the Happiness Club of Hartford. 
Dr. Siegel's new book Love, Animals & Miracles was front and center on the sales table. But I assure you, all eyes were on this gracious, sweet, loving, wonderful man – one of the top 20 most spiritual people alive on the planet.
He shared many of his favorite treasures/messages and spoke about how important it is to love everyone and everything.
He tells us to stay in the present moment and do all you can to have a great day. I would love to share some other notes that I scribbled down …
 "Difficulties redirect us."

 "Quiet your mind and you will see the truth."

 "Quiet your mind, and send a message."

 "Do what is going to make you happy."

 "Find what makes you lose track of time, and you will live longer."

 "You want to help people – listen to them."

 "Relationships keep you alive."

 "When you find pennies, you're on the right path."
In the picture (above), I had just finished thanking Bernie (that is what he prefers to be called) for his testimonial for my book. Here's what he had to say:
"Your words of wisdom are so true. As a survivor you have so much to teach others and in a sense re-parent them. When you have not been blessed by wise parents, teachers and other authority figures adversity can be what enlightens you. We can all be helped by your wisdom and not have to experience the adversity to become enlightened." ~Bernie Siegel, MD author of 365 Prescriptions for the Soul and 101 Exercises for the Soul. "We are all wounded and working at becoming complete."  
Learn more about Dr. Bernie.Siegle at  www.berniesiegelmd.com. I hope you enjoyed his words of wisdom. Here's to loving you.
Hugs,
Casey