An Oldie But Goodie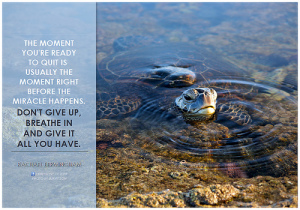 image courtesy of bk
My last two posts have been about the treasures found tucked away on the top of my bookcase, well here is the last one that was in the pile. I am sure most of us have read this at least once in our life time, here is a gentle reminder ….
Don't Quit
When things go wrong as they sometimes will,
When the road you're trudging seems all uphill,
When the funds are low and the debts are high,
And you want to smile, but you have to sigh,
When care is pressing you down a bit-
Rest if you must, but do not quit.
Life is queer with its twists and turns,
As every one of us sometimes learns,
And many a fellow turns about
When he might have won had he stuck it out.
Don't give up though the pace seems slow-
You may succeed with another blow.
Often the goal is nearer than
It seems to a faint and faltering man;
Often the struggler has given up
When he might have captured the victor's cup
And he learned too late when the night came down,
How close he was to the golden crown.
Success is failure turned inside out-
The silver tint of the clouds of doubt,
And you never can tell how close you are,
It may be near when it seems afar,
So stick to the fight when you're hardest hit,
It's when things seem worst that you musn't quit.
~Author Unknown
So if any of you are tired of the battle please" DON'T QUIT"  read this as often as necessary, and I hope it all will make what matters worth continuing to move forward. Continue to be the best you can be, and remember everybody is struggling with some kind of battle.
Hugs,
Casey
Post by: Casey Morley – "I have emerged from a life filled with abuse and chronicle my journey in  my book, Crawling Out, available at CrawlingOut.com. I hope by sharing my story I can help other victims of domestic violence realize that they too, can start their own journey of crawling out – and that they don't have to walk alone. I am also the owner of Casey's Image Consultants, and a Certified M'lis Wellness Consultant offering Lifestyle Change Programs for detoxifying the body. I am dedicated to helping people improve their appearance and overall health from the inside out."